Skip Navigation
Website Accessibility
Threads of Joy, Cups of Cheer: Your Holiday Countdown Begins Now
Our Holiday HeadStart Celebration starts August 19
I know it is still hot outside but the holidays will be with us before you know it. Here at The Taming of the Ewe we're delighted to invite you to our Holiday HeadStart event. It's never too early to get into the holiday spirit, so mark your calendars for August 19th through the end of the month and join us for a season of crafting joy and delightful tea tastings!
Festive Crafting - Start Your Gift Making Now!
Tired of last-minute holiday gift shopping and the stress that comes with it? Fear not! Our Holiday HeadStart event is all about taking the early initiative to create heartfelt presents for your loved ones. From August 19th onwards, we'll be showcasing an array of beautiful yarns and knitting patterns perfect for creating thoughtful handmade gifts. Whether you're a seasoned crafter or a knitting novice, our experts will be on hand to assist and inspire you in making personalized gifts that will be cherished by your family and friends.
Featured Holiday Teas - Sip Your Way into the Season!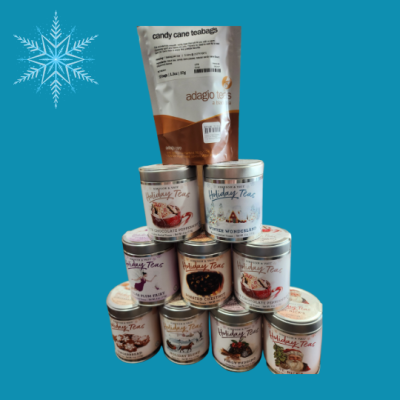 What better way to complement your creative endeavors than with a cup of warm, festive tea? Discover a delightful selection of holiday teas that evoke the spirit of the season. We'll be featuring a variety of holiday-themed teas. Experience the cozy comfort of Winter Wonderland, the nostalgic charm of Candy Cane Black Tea, and the heartwarming blend of Gingerbread Black Tea. Join us for tea tastings and let your taste buds be whisked away on a journey of festive flavors.
Pick up a Holiday Gift guide to help you plan your Christmas list and craft projects. There will also be a number of gift ideas for the crafters and tea drinkers in your life.
Want to make your own decorations this year?
We have just received a large shipment of Circulo Amigurumi kits that include Christmas and Halloween characters. These kits come with everything you need to make the characters, including yarn, pattern, stuffing, safety eyes, a stitch marker to mark the beginning of the round and even a crochet hook.
We will also be releasing an exclusive Urth Once yarn, Christmas worsted, perfect for a hat, scarf or tea cosy. There is only a limited amount of this yarn so make sure you get yours early. We will not be able to put this yarn on hold.
Embrace the holiday spirit early this year with us at The Taming of the Ewe's Holiday HeadStart event. Mark August 19th on your calendars and make this holiday season one to remember with heartfelt presents and festive tea experiences.
We can't wait to celebrate the magic of the season with you!
With warm regards,
Pat and the Ewe crew