Skip Navigation
Website Accessibility
Unveiling September's Tapestry of Color and Craft!
Bringing You the Perfect Blend of Yarn and Tea
Welcome to a September filled with vibrant yarns, aromatic teas, and a medley of creative experiences at The Taming of the Ewe. As the seasons transition and the world transforms, join us in weaving a tapestry of warmth, skill, and community. From Blossoms yarn to beginner and advanced classes, prepare to immerse yourself in the art of crafting with a splash of color and a sip of tea. Read on to discover the threads that will connect us all this month!
Blossoms Yarn Sale - September 1st and 2nd
Add a burst of color to your life with Frabjous Fibers Blossoms yarn. These gradient cakes, available in Mary Ann (fingering weight) and Mad Hatter (sport weight), will brighten up your projects. This weekend only, on September 1st and 2nd, enjoy a fantastic deal: Buy One Get One 60% off on all Blossoms yarn and kits. Don't miss out on this opportunity to infuse your projects with vibrant hues.
First Friday Celebration - September 1st
Join us as we kick off the fall season with a First Friday celebration! Our doors will remain open until 9pm, along with many other downtown Gadsden merchants. Come on by The Taming of the Ewe to savor delightful tea samples and get a head start on your Christmas shopping. Plus, don't forget to check out our knitted petting zoo on display by the front window – a showcase of artistry and creativity.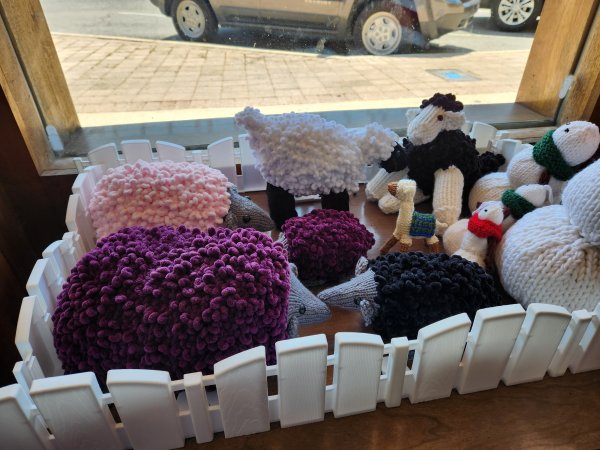 Beginners' Classes: Knitting and Crochet
Are you eager to dive into the world of yarn crafting? Our free beginners' knitting and crochet classes are the perfect way to start your journey. With the purchase of supplies, you'll learn the basics while creating a lovely dishcloth as your first project.
Beginning Knitting - September 2nd & 9th, 10-11am
In these two sessions, you'll master knitting essentials: casting on, the knit and purl stitches, and binding off. Join us and discover the joy of creating with yarn.
Beginning Crochet - September 16th, 10-11am
Learn the fundamentals of crochet, including the chain stitch, single crochet, and double crochet. Unleash your creativity and embark on new crafting adventures.
Advanced Classes: Elevate Your Craft
Ready to take your skills to the next level? Our advanced classes offer in-depth learning and hands-on experience under the guidance of skilled instructors.
Goldwing Sweater Class - Starting September 28th, 6:30-8:30pm
Led by the talented Glenda Swinford, this six-week course delves into Fair Isle colorwork as you create a stunning Goldwing Sweater. The course fee is $75 plus supplies. Limited spots available, so reserve your place by calling 256-546-9090.
Introduction to Weaving - September 24th & October 1st, 1:30-4pm
Explore the art of weaving with Joel Dorning in this two-part course. Discover the basics of weaving on a rigid heddle loom and craft your own woven masterpiece. The course fee is $50 plus supplies. Reserve your spot early by calling 256-546-9090, as space is limited.
We're thrilled to be a part of your creative journey this September. Join us for an inspiring month of learning, crafting, and connecting with fellow enthusiasts. Don't forget to follow us on social media for updates, sneak peeks, and a cozy dose of inspiration.
Pat and the Ewe Crew